In addition to our mail order service we also have a real world store, so get your boots on and come and see us! We can be found at:
Krypton Komics, 94 Blackhorse Lane, Walthamstow, London E17 6AA
Just two minutes walk from Blackhorse Road Tube Station on the Victoria Line.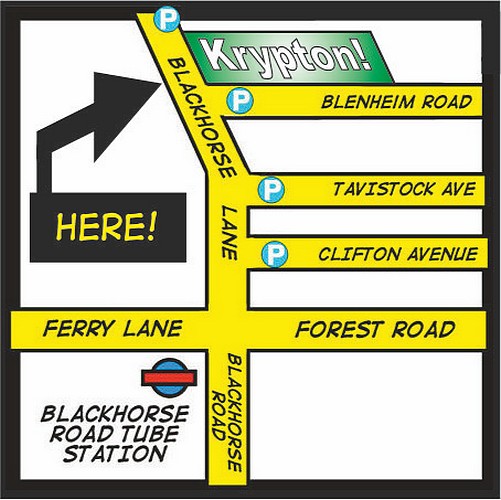 Standard Opening Times
Monday: Closed
Tuesday: Closed
Wednesday: Closed
Thursday: 9.30 am - 2.15 pm
Friday: 9.30 am - 2.15 pm
Saturday: 10.00am - 6.00pm
Sunday Closed

Please note that we've moved to these hours as our minimum times for opening the shop. This gives us the maximum flexibility to balance real world sales with online sales. We are often around processing orders at other times so if you give us call we may be able to arrange a visit by appointment. Any other specific opening times for Sales & Events will be shown on the main home page.

Telephone: +44 (0) 0208 527 7558
E-mail: gary.ochiltree@btinternet.com
Follow @KryptonKomics
Follow us on twitter to keep informed about shop events
and our regular online promotional Sales & Discounts!